Fuschia – Eco-Friendly Fine Art Acrylic Artist Paint 500ml
$9.00 AUSTRALIA-WIDE SHIPPING | CLICK & COLLECT FROM SYDNEY

ECO-FRIENDLY FINE ART – Our premium Fine Art Acrylic Paint offers a versatile and exciting range of possibilities for artists of all levels. Semi-permanent, flexible, water-resistant, fast drying, and completely flexible in light and heavy applications.
OVER 50 DIFFERENT COLOURS – Choose from a huge range of beautiful colours, including opaque, transparent, semi-transparent, neon and metallics. Mix and match to create your own unique palette.
ECO-FRIENDLY & VEGAN – ZERO VOC / non toxic, vegan and cruelty-free, in recyclable packaging.
AUSTRALIAN MADE – All our products are proudly Australian made
MONEY BACK GUARANTEE – Love it or your money back – no questions asked.
Colour: Fuschia, Paint Opacity: Semi-Transparent
Eco-Friendly Fine Art Acrylic Paints by Global Colours is a premium product that not only offers incredible versatility and new creative opportunities, but is VOC free – meaning it has Zero Volatile Organic Compounds. It's better for you and better for the environment.
The exceptional range of over 50 colours (opaque, semi-transparent and transparent) has unparalleled purity, intensity and brilliance. Use with a palette knife or brush for structured applications, mix with pouring medium for pouring creations or dilute with water for brilliant watercolour effects.
Explode your creativity with Fine Art Acrylic Impasto Artist Paint. Over 55 colours including 6 eye-grabbing UV colours and 11 stunning shades of metallics that won't break the bank. Semi-permanent, flexible and water-based, it is water-resistant, fast-drying, and completely flexible in light and heavy applications. Use with Global Colours mediums for unlimited possibilities and try our new Pouring Medium for magical pours, flip-cups and marbling techniques. Use with a palette knife or brush for more structural 3D creations. Use with 3D Modelling Paste for heavy texture creations.
Each acrylic paint is fully compatible and blends beautifully with the rest of the range and mediums, working together to create a highly versatile painting system for all artists.
Our Fine Art Acrylics contain only the highest quality pigments and ingredients and have been formulated with an environmental conscience with recyclable packaging and are non-toxic. This product is lead, chromium, and cadmium free and complies with Australian Standards ATSM D4236. All SDS are available on Global Colours' website.
Better for you. Better for the planet.
Global Colours believes strongly that we all need to do our bit to contribute towards a better, less polluted environment. Manufacturers have a responsibility to create products which are less harmful to our environment giving consumers better choices. And consumers can help, by choosing more environmentally friendly products wherever possible. With this in mind, we have developed the World's First ZERO VOC Artist's Acrylics.
What are VOC's and why should we be avoiding them?
The VOC acronym stands for Volatile Organic Compounds, which are carbon-containing compounds emitted as gasses into the air.
There are 500+ known VOC's which are listed by the World Health Organisation as being toxic to humans. They accumulate within human fat cells.
Paints and other materials like furnishings, building materials, adhesives, carpets, MDF and cleaning fluids can emit these gases for years.
These gasses contribute to ozone pollution, which is bad for the environment, and they also pollute the air inside homes or classrooms, which can be detrimental for our health.
The EPA reports that VOCs can lead to adverse health effects like:
- Eye, nose, and throat irritation
- Headaches
- Increased asthma attacks and allergies
- Liver, kidneys, and central nervous system damage
- Behavioural and learning difficulties
- Cancer
Yikes, right?
Which is why Global Colours has created the world's first Zero VOC Artists Acrylic Paint Range in its Student and Fine Art Acrylics. We will continue to reformulate all our paints and mediums until our entire collection of products is Zero VOC. It's a big job but we believe it's in the best interest for our children, customers, our team and our planet.
Global Colours is Australian owned, and paints are manufactured in the heart of Sydney.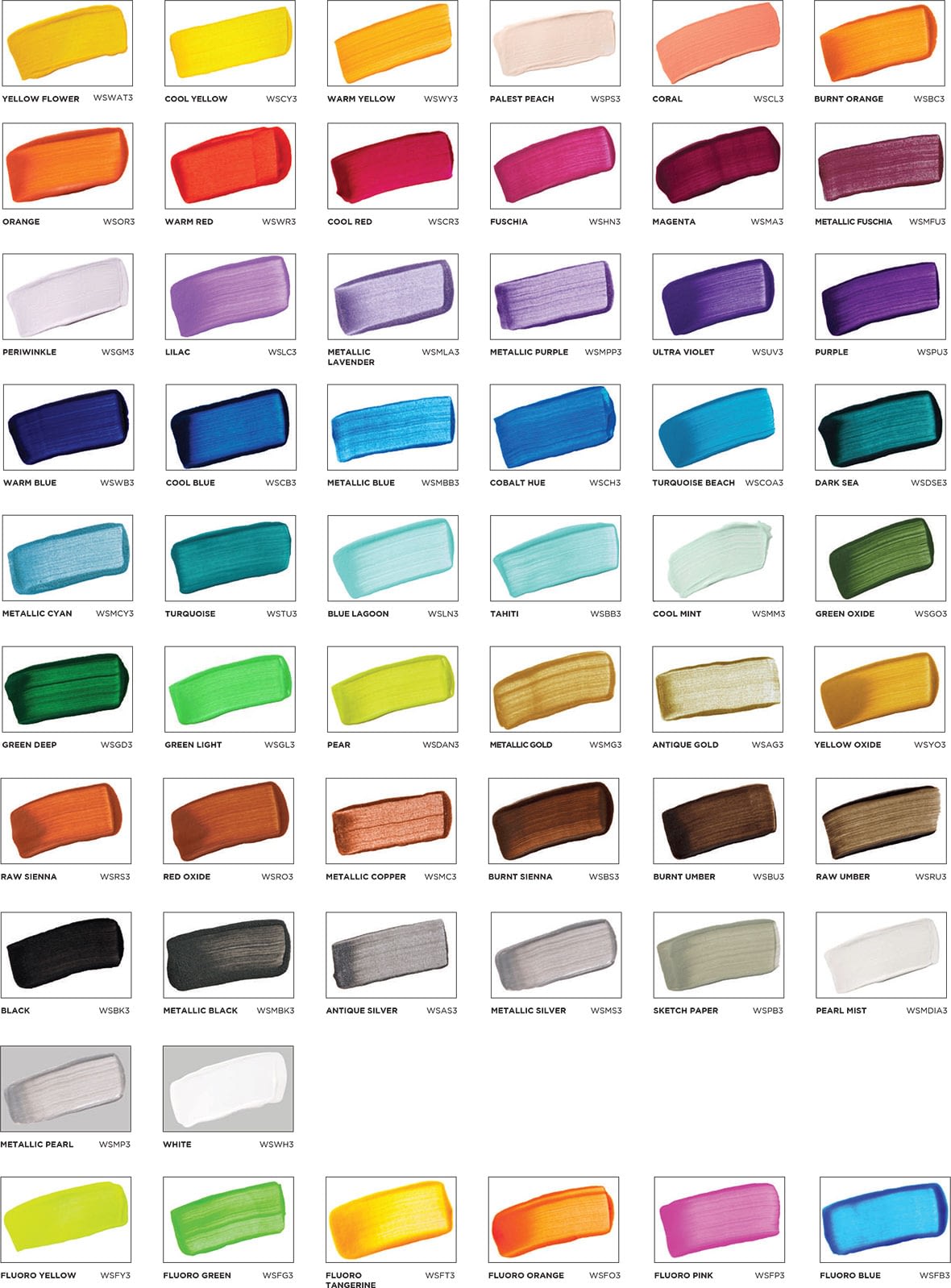 Additional information
| | |
| --- | --- |
| Weight | 0.616 kg |
| Dimensions | 9.5 × 9.5 × 11.5 cm |
| Colour | Fuschia |
Looking for safety information relating to this product?
Click the below Material Safety Data Sheet to download to your device.
Eco-Friendly Fine Art Acrylics Safety Data Sheet
You Might Also Be Interested In…